Penstock gates are designed to control a maximum head of 5 metres from both directions (on-off seating) by means of a plate set in runners, which moves up and down. They are manufactured from HDPE (High Density Polyethylene) and 316 Stainless Steel and are BS7775 compliant.
Installation of penstock gates are easy whether its wall, pipe or flange mounted. They are also suitable for use in fresh, salt and waste water environments. We have a range of penstock sluice valves designed for manhole chambers and for use alongside Hydrobrakes.
The maintenance for the Penstock is minimal due to the materials used. Other benefits are the ease of installation and reliability along with the low operating torques and light weight materials making the operation of the penstock easy, despite it being very robust.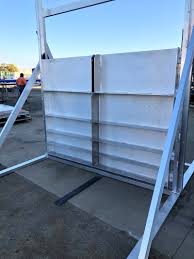 We can also assist with the design and supply of penstocks to suit square openings, non-standard size pipe openings and can supply penstocks to suit operating pressures dictated by site requirements.
A penstock is essentially a gate valve to control or isolate the flow of water. Penstocks are also used to control water levels to ponds, reservoirs and wetland areas. If you require any assistance or more information please contact us by phone on +91-22-2521 1225 or by email [email protected]